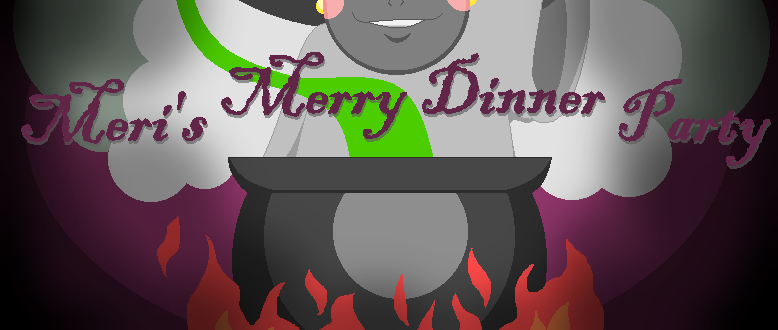 Meri's Merry Dinner Party
Help Meri make a delicious dinner for her monster friends.
Don't mess up, or Meri will be so sad. She's been waiting for this dinner party for a long time, don't let her hard work go to waste.
[Playable in-browser or downloadable below for Windows and Mac]
.
.
Controls:
Arrows Keys for movement
Mouse for collecting items
Esc to open your menu
Enter or Space to select
.
.
I made this game in one week for the Weekly Game Jam's Week 95 Bad Cooking Theme. Making all the art and assets in that amount of time was crazy. Hope you enjoy this short little game. Have fun
| | |
| --- | --- |
| Status | Released |
| Platforms | Windows, macOS, HTML5 |
| Author | VitaliaDi Productions |
| Genre | Interactive Fiction, Role Playing |
| Made with | RPG Maker |
| Tags | 8-Bit, Fantasy, Halloween, Multiple Endings, Pixel Art, Retro, Short, Singleplayer |
Comments
Log in with itch.io to leave a comment.
I translated your game into Russian.
I hope you don't mind.
That is wonderful! If you'd like to share the link below I would appreciate it!
I like this game! I can tell there was a lot of effort and care put into the art and the things you can interact with. I enjoyed how it was very short and sweet too - it was enjoyable beginning to end.
I see you also went with a witch theme for this one!

Cool game, really liked the art, especially the closeups.

Minor issues:
- Took me a bit to find the leather because at first I interacted with the dresser on the left side and then moved on thinking there was nothing there.
- The ladder took me a bit to find because it looked like part of the building
- Can walk halfway through the hedges outside, seemed kinda odd

Glad you liked it :)
Yeah I thought it was funny we both went for the same thing but how could you resist a witch game with a theme like that, right? Man I forgot to check the passability on every hedge. Thanks for the feedback, they're quick fixes and I appreciate the heads up.